Quote:
Originally Posted by
Paineless Creations
(this is Bobby now!) Actually I have a question for you all. What type of shoes are you wearing out in the field?
Depends on what I'm doing/wearing.
I haven't worn these yet, but I liked these when I tried them on. Good traction, light, waterproof, and safety toe. (Composite, not steel)
"Craftsman" from Sears. "Hawk" is the name of the boot.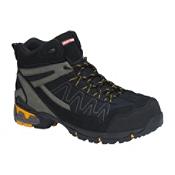 For summer/shorts, I have some New Balance running shoes. I forget the model, but they have some aggressive tread on them and are made of that "mesh" material, so they are super light and they "breathe".
The boots I'm currently wearing are also "Craftsman" from Sears.
Model number in catalog 067-84993.
Soft toe "hiker". Waterproof leather, soft, & flexible. Supposed to have recycled tires in the soles for cushioning.
I'm no boot expert, but these are the most comfortable boots I've owned in this price range. I probably should buy more before they discontinue them since I have a hard time finding boots that fit well.