For the last several years or so, I've come to expect the worst from each and every item I purchase. No surprises that way. Today was no exception.
I finally picked up the snowthrower last night. (good thing I bought that trailer)
The box was massive and it was very heavy/awkward to get unloaded, but I managed. Today I opened the box and checked out the manual to see what needed to be assembled... "flip up the handle, tighten, remove some pins, attach the chute, blah, blah, blah..." seems simple enough.
Well, 2 hours later and more obscene words than I've used in a long time, and I'm left with a cut open cardboard box, and a snowthrower that can not be "assembled".
See that red "post" in the photo above? The "head" of the chute is supposed to mount to that. However, when I placed the chute into it, the holes for the pin would not line up. (see below)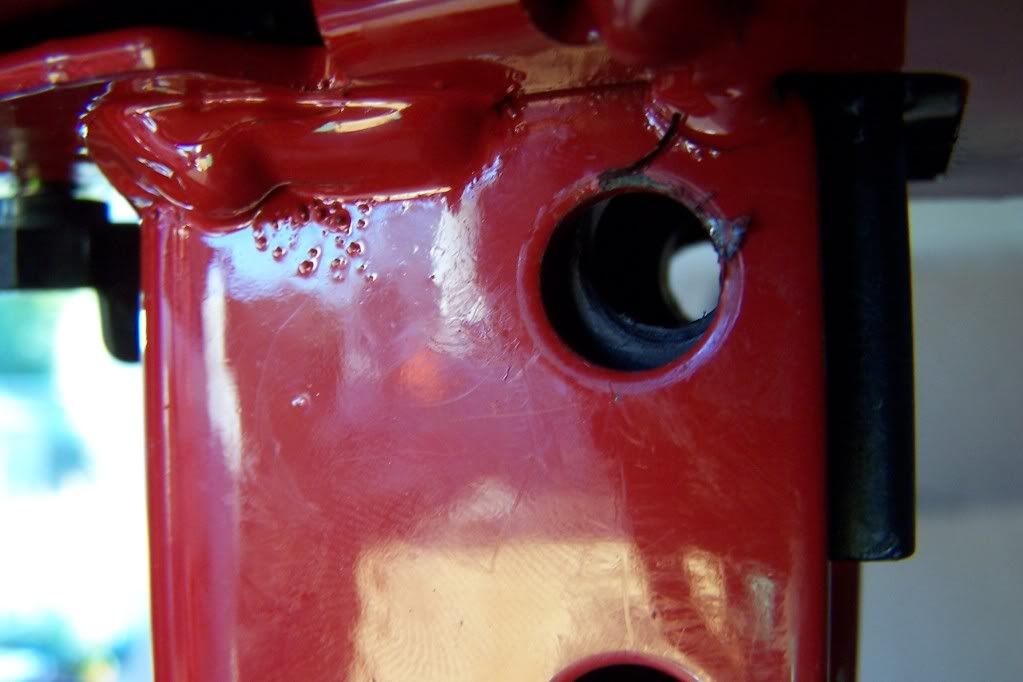 I tried removing it, repositioning it, pushing, twisting, swearing, beating it, talking kindly to it, removing it, repositioning it, removing it, repositioning it, removing it, repositioning it, swearing some more, throwing things, and then I finally grabbed the phone and called Sears.
If I could have found another unit elsewhere for close to the same price, I would have returned it on principal alone, but it was a great deal, so I would need to resolve this with Sears somehow. In my head, I had it all planned out that I'd request that THEY come pick this up, and DELIVER a new one to me. Keep in mind, I did not pay to have this one delivered, so I expected them to require me to return it for an exchange.
I politely explained to the manager that it wasn't as simple as returning a pair of shoes, that the item is very heavy, and that there was the hassle of using the trailer again for returning it. I exaggerated that part a bit, but honestly, I didn't want to deal with hooking up/loading the trailer to return something that was defective right from the factory.
He was very nice and long story short, he's having a new unit delivered, and they will take this one away with no delivery charge. And I didn't even have to argue with them.
Let's see... aside from my rambling on about nothing here, what can we learn from this?
Well, for one thing, don't wait until the last minute to purchase equipment you need for a job. Had it been winter and I needed this "now", I would have been screwed.
Lesson #2. Obscenities will not make improperly manufactured holes line up, no matter HOW many of them you utter, scream, or shout.
ETA:
The instructions included were HORRIBLY written, which contributed greatly to the "swear factor".