| | |
| --- | --- |
| Anyone ever use underground screen with pavers to keep out squirrels? | |
Tree Care, Irrigation, Landscaping, Hardscapes
| | |
| --- | --- |
| Discuss issues dealing with landscapes, hardscapes, exterior landscape lighting and lighting fixtures, lawn irrigation, sprinklers, sprinkler heads, mulch, retaining walls, etc. | |
Anyone ever use underground screen with pavers to keep out squirrels?




Tree Care, Irrigation, Landscaping, Hardscapes

| | |
| --- | --- |
| Discuss issues dealing with landscapes, hardscapes, exterior landscape lighting and lighting fixtures, lawn irrigation, sprinklers, sprinkler heads, mulch, retaining walls, etc. | |
03-30-2013, 07:02 PM
new member

Join Date: May 2012

Posts: 604

Rep Power:

0
Anyone ever use underground screen with pavers to keep out squirrels?
---
| | |
| --- | --- |
| | I have this account that has a large paver walkway. One section of it, Id say about 8 feet long by 4 feet wide has some frost heaves and damage from burrowing squirrels. Im going to pull all the pavers in this section amd bring in some more material and tamp and level and I was thinking of burying some sort of galvanized fencing or screen along the sides of the pavers for a rodent deterrent. Anyone ever do this. Ive been thinking about it and if I go deep enough with the screen I think it may help. parts of the walkway have sunk because of the tunneling. You can see where they are burrowing along the edges of the walk. Now Ive just got to price this out. Im reusing the pavers so Ill need to buy more sand and maybe lay down some material first to help with drainage. Should probably take the better part of the day to do depending on what I find underneath. |
03-31-2013, 02:08 AM
Senior Member

Join Date: Mar 2013

Posts: 202

Rep Power:

4
---
| | |
| --- | --- |
| Lawn care business tips | Chain link fence they will fit through the holes, chicken wire and door screen they will eat through..... yes squirells will eat stuff like that. Honestly, I would say composite edging hurried and then also on top of the ground, one atop the other son they have to dig 12"+ to get under it. I have used the composite on everything from fences to patios. Great stuff. Available at lowes they call it a composite 2*6 deck board. Great for edging and rot boards if customer is willing to pay the cost to get it done. Is made from PVC plastic so it will last a lot longer than the patio/walkway and is an earth tone color. As opposed to the metal edging or wire that will rot in a few years especially if under ground, even galvanized. |
03-31-2013, 05:18 AM
new member

Join Date: May 2012

Posts: 604

Rep Power:

0
---
I think a heavy enough galvanized mesh will work. Ill have to look around.
03-31-2013, 01:04 PM
Senior Member

Join Date: Nov 2009

Location: Helena, MT

Posts: 927

Rep Power:

7
---
1"x2" welded wire for rabbit cages. Will not last forever but it will last long enough for the squirrels to go elsewhere, like under the house foundation.... LOL
__________________
Pat
03-31-2013, 07:06 PM
new member

Join Date: May 2012

Posts: 604

Rep Power:

0
---
Dont think they will get under foundation. Sitting on ledge.
04-01-2013, 12:52 PM
Administrator

Join Date: May 2003

Posts: 38,073

Rep Power:

10
---
You should take some pictures of the damage both above ground showing the pavers sunken and below as you see what's underneath it.
How about hardware cloth?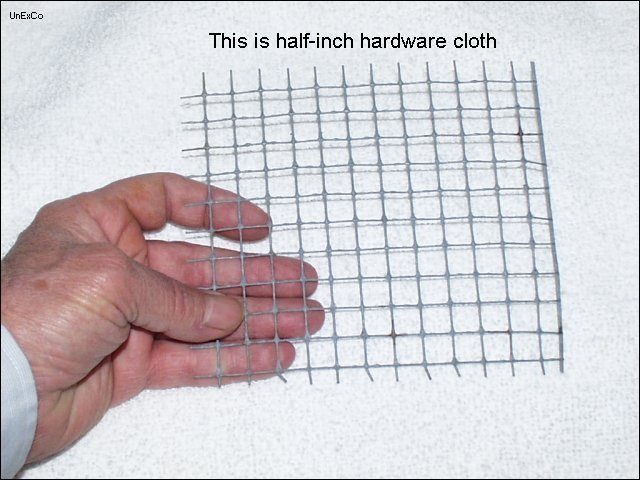 Example of putting it at least a foot under the ground and then bent in an 'L' shape.
__________________
- Subscribe to my
Lawn Care Marketing
Blog Feed and get daily tips sent to you. Free!
Download your Free trial of Gopher
Lawn Care Software
.
04-01-2013, 01:45 PM
new member

Join Date: May 2012

Posts: 604

Rep Power:

0
---
| | |
| --- | --- |
| Thread Tools | Search this Thread |
| | |
| | |
| --- | --- |
| Posting Rules | |
» Free Lawn Care Business Flyer, Door Hanger, Contract & Logo Templates