| | |
| --- | --- |
| acorns | |
Lawn Maintenance / Lawn Renovation
| | |
| --- | --- |
| A great way to talk about all things lawn care related. Grass, turf, shrubs, trees, aeration, fertilization, reseeding, hydro-seeding, mowing, grub control, chemicals and pesticides. Ask questions, give answers. Grow! | |
acorns




Lawn Maintenance / Lawn Renovation

| | |
| --- | --- |
| A great way to talk about all things lawn care related. Grass, turf, shrubs, trees, aeration, fertilization, reseeding, hydro-seeding, mowing, grub control, chemicals and pesticides. Ask questions, give answers. Grow! | |
09-01-2011, 08:33 PM
Junior Member

Join Date: Aug 2011

Posts: 5

Rep Power:

5
acorns
---
09-02-2011, 05:46 AM
Andy

Join Date: Jan 2009

Location: Halifax, Nova Scotia

Posts: 2,885

Rep Power:

10
---
__________________
Andy
Halifax, Nova Scotia
09-03-2011, 07:54 PM
Junior Member

Join Date: Aug 2011

Posts: 5

Rep Power:

5
---
Lawn sweeper really? My dad had one when I was a teen. I remember using it to pick up grass clippings and leaves, but I don't remember picking up twigs with it.

I just need to figure out how to hook it up to my zturn.
09-03-2011, 09:05 PM
Andy

Join Date: Jan 2009

Location: Halifax, Nova Scotia

Posts: 2,885

Rep Power:

10
---
They have come a long way
I bought my first one maybe 4 or 5 years ago, aside from leaves I end up plowing some gravel onto my grass and was looking for an easy way to pick them up, I tried two different Deere models and they did a pretty good job, then I read a review on the tractor forum on this Smart Sweeper so I bought one and the results were very good, rocks, leaves, twigs and acorns.
The other thing I use is a commercial blower and sometimes a combination of both, it's not perfect but it sure saves me a lot of time raking.
I no longer have the lawn care company but I still have the sweeper, we use it a lot on clients lawns, works great for dog poo also. For leaves however it's tough to beat these Dr. Lawn vacs, I swear by them and kept one although my property isn't really large enough for all the use it gets.
Not sure which ZTR you have however the Deere unit we had did have a plate, I suspect you could weld one on, the tongue weight is nothing you just need some way to attach it.
__________________
Andy
Halifax, Nova Scotia
04-29-2012, 12:57 AM
Junior Member

Join Date: Apr 2012

Posts: 21

Rep Power:

4
---
a power broom attachment on a weed wacker works REALLY REALLY good on acorns. (the rubber paddle type). its also my favorite for cleaning up the plow mess off of lawns with peastone driveways too.
06-18-2012, 12:24 PM
Senior Member

Join Date: May 2011

Location: Florida

Posts: 767

Rep Power:

5
---
06-18-2012, 07:51 PM
new member

Join Date: Jan 2012

Location: nj

Posts: 885

Rep Power:

0
---
Quote:
Originally Posted by
Sprinkler Buddy
The acorns and small stuff break down quickly. Pick up the bigger stuff, mulch the rest with the mower. Why make more work out of it than it has to be?
i don't know how acorns are down south but in jersey they are hard as a stone and are quite abundant.
so much so that a good size oak will fill up a couple large landscaper barrels.
they are also heavier and the machine won't suck them up as well as the ones that do can shoot out like a missle.
to top it off if they sit a while and soften up they gerninate and spout out and they achor themselves to the lawn.
houses that have oaks i usually charge a more for clean ups and if they have a ton of oaks they pay big.
06-19-2012, 03:15 PM
Senior Member

Join Date: May 2011

Location: Florida

Posts: 767

Rep Power:

5
---
Here in FL, as soon as they hit the ground, bugs start eating them. Even the larger Hickory nuts break down quick here in the South.

That would be a pain to deal with, guess there are a few benefits of being in this unbearable summer heat of the South. LOL
06-20-2012, 10:14 PM
Senior Member

Join Date: Mar 2010

Location: New Mexico, USA

Posts: 125

Rep Power:

6
---
I have similar trouble with chinaberry berries and pecans. Is there a manual tool to pick up or sweep nuts and berries that is cheap and more effective than a rake or any method for using typical lawn tools that works well? The yards are small so lawn guys don't use tractors or zero turns here.

I saw a tool that is like a wire wheel on a pole that I think is for picking up nuts. Not sure how you get them out. Anyone know about that?

Things don't rot here. Too dry. Cut grass, nuts, berries, seed pods on the ground just dry up and pile up. Cut grass would become a fire hazard if not bagged. Sometimes ants or birds will eat things.
06-21-2012, 12:35 PM
Administrator

Join Date: May 2003

Posts: 37,709

Rep Power:

10
---
Would a push lawn sweeper work?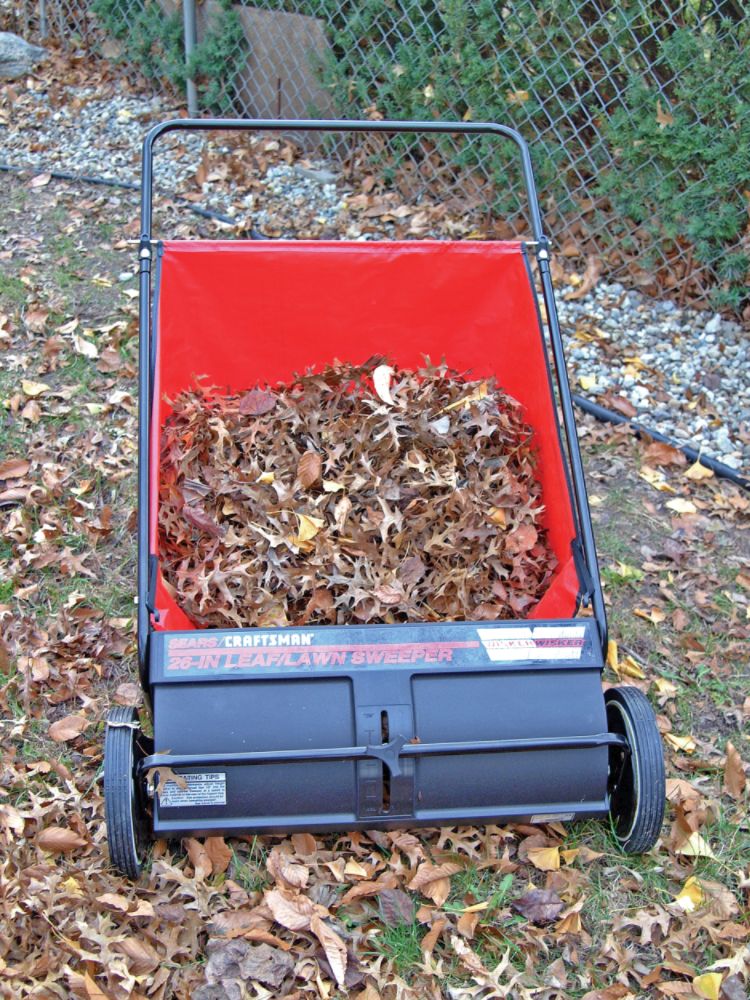 __________________
- Subscribe to my
Lawn Care Marketing
Blog Feed and get daily tips sent to you. Free!
Download your Free trial of Gopher
Lawn Care Software
.
| | |
| --- | --- |
| Thread Tools | Search this Thread |
| | |
| | |
| --- | --- |
| Posting Rules | |
» Free Lawn Care Business Flyer, Door Hanger, Contract & Logo Templates
» Recent Threads

Rating

Title, Username, & Date
Last Post
Replies
Views
Looking for new host

Yesterday

07:58 AM

by

Just for Cuts

0

98

Employees

11-25-2015

05:13 PM

by

Chilehead

5

1,029

ATV Plowing and Services...

11-25-2015

03:37 PM

by

GRANT'S LAWN CARE

3

165

Hi, new member looking...

11-25-2015

12:41 PM

by

Steve

1

124

Help a Brother Out -...

11-23-2015

05:25 PM

by

Steve

90

31,749

Charging customers for...

11-17-2015

11:43 AM

by

Steve

20

1,924

First house clean up,...

11-14-2015

06:12 AM

by

Brian3137

12

1,001

Leaf removal

11-13-2015

08:13 PM

by

Bradcook21

8

922

Any feedback on Toro...

11-12-2015

02:59 PM

by

Steve

1

510

Don't pick up those...

11-12-2015

12:06 AM

by

Steve

1

724

buying existing company

11-11-2015

06:49 PM

by

Steve

1

694

Snow Plowing /...

11-11-2015

09:15 AM

by

kslawn

8

956

Has anyone created an...

11-11-2015

07:52 AM

by

mark123

0

641

Buying a business

11-10-2015

06:54 PM

by

Steve

15

2,206

Rocky Newbe

11-09-2015

06:14 PM

by

Steve

3

791

Say Hello !!!

11-09-2015

06:01 PM

by

Steve

1,239

423,829

Scored 2 Freebies Tonight

11-09-2015

05:52 PM

by

Steve

16

6,279

Customers dodging the...

11-08-2015

05:36 PM

by

Chilehead

4

801

Starting a mowing...

11-05-2015

12:47 AM

by

Steve

9

4,182

Property Pricing

11-04-2015

06:35 PM

by

Brian3137

6

2,062

What am I looking at...

11-02-2015

05:53 PM

by

Steve

31

5,578

starting organic...

11-02-2015

05:46 PM

by

Steve

4

4,165

Mister Joe in...

11-02-2015

05:43 PM

by

Steve

6

1,964

Three Year In -...

11-02-2015

05:41 PM

by

Steve

9

4,094

Mowing golf course

11-02-2015

05:03 PM

by

SC93

10

2,062

Just landed a nice...

10-30-2015

09:39 PM

by

Sprinkler Buddy

4

2,037

Credit Cards - What's in...

10-30-2015

09:20 PM

by

Steve

13

6,768

Hello From Michigans U.P.

10-29-2015

11:11 PM

by

Steve

6

4,155