I need one and I can't afford it.
It costs $220 locally, $155 online before shipping.
Here it is online with a diagram of how/where it installs.
MK363 Exmark 36" Mulch Kit
Here is a pic that I found searching google: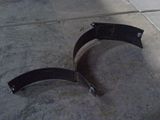 The last pic is only of the "baffle weldment". The kit comes with blades, an outer cover plate for the discharge chute, and screws and stuff.
My question is if I make a simple discharge cover plate will I get the same desired mulching results?
Can I get away with only the discharge cover plate? Is the "baffle weldment" really necessary?
How hard is it to make my own "baffle weldment"?