Part 1. Getting started.
First thing you need to do is start off small, do some bed edgers or small stone bed walls. (pictured below).
Picture #1 Landscape renovation and small landscape leveling wall. (as completed).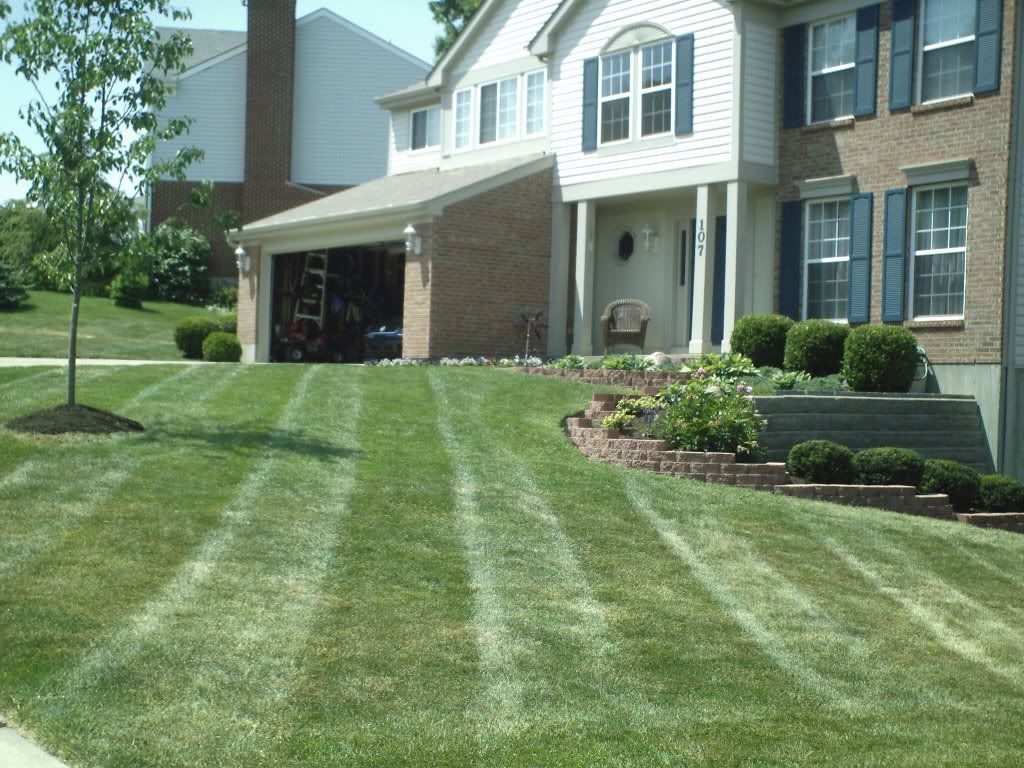 To start a project like this you will need some basic hand tools;
*Dead Blow Hammer (#2, 3 or 4 lb)
*9" Level Prefered T-Level
*2' Level
*4' Level
*Masons string and string level
*Rebar Stakes
*Masons Hammer
*#3 Hand Sledge
*4" Masons Chisel
* Shovel, spade, pick-axe or grubben hoe and hard rake
* Wheelbarrow
Note lazer level - transit is optionial
Now that the tools are in place design work begins.
Look at the house notice color scheme of roof, brick, shuders. Look at exisiting plants and terrain. Talk with cutomer to help with what they were thinking as far as design. If they have no clue take some notes and get back to them in the next day or two with a design. (NOTE; this will give you time to think about what and how you approch this as far as a design). Ask the customer if they have a budget in mind. This will give you a starting point and you can work from there. Always go high or over the budget meaning offer more options and idea's for them to chose from then was descuessed earlier, it is easier to work back in the beginnign than add as you go. Remember you are the PROFESSIONAL here they have seeked you out to do the work. Make a clear and understandable drawing of your project and have the customer sign acceptable in the drawings and make it apart of your aggreement/contract.
Resources;
Pavestone installation Video free @ The Home Depot or on line @
http://pavestone.com/retail/wall-install.html
Design Software;
SmartDraw online
http://www.smartdraw.com/
Total 3D Home & Landscape *$49.99 @ Stapes
Google SketchUp 6 * Free from Google
http://sketchup.google.com/
Design is completed and approved, time to get to work.
Tip on generating customers.
Be personable to your exisiting customers they are your personal resource for referals, talk to them let them know you do more than just cut yards.
Advise them ex. "Mrs. Smith your front plant bed edging is looking a little rough, the old landscape timbers are becoming rotted and need to be replace with some very appealing landscape stones, would you like me to provide you with a quote to replace it, I'm sure and can help you better than a outsider, since your and exisiting customer.
Pictures of a small bed leveling wall project we completed early spring 2007.
Pix 1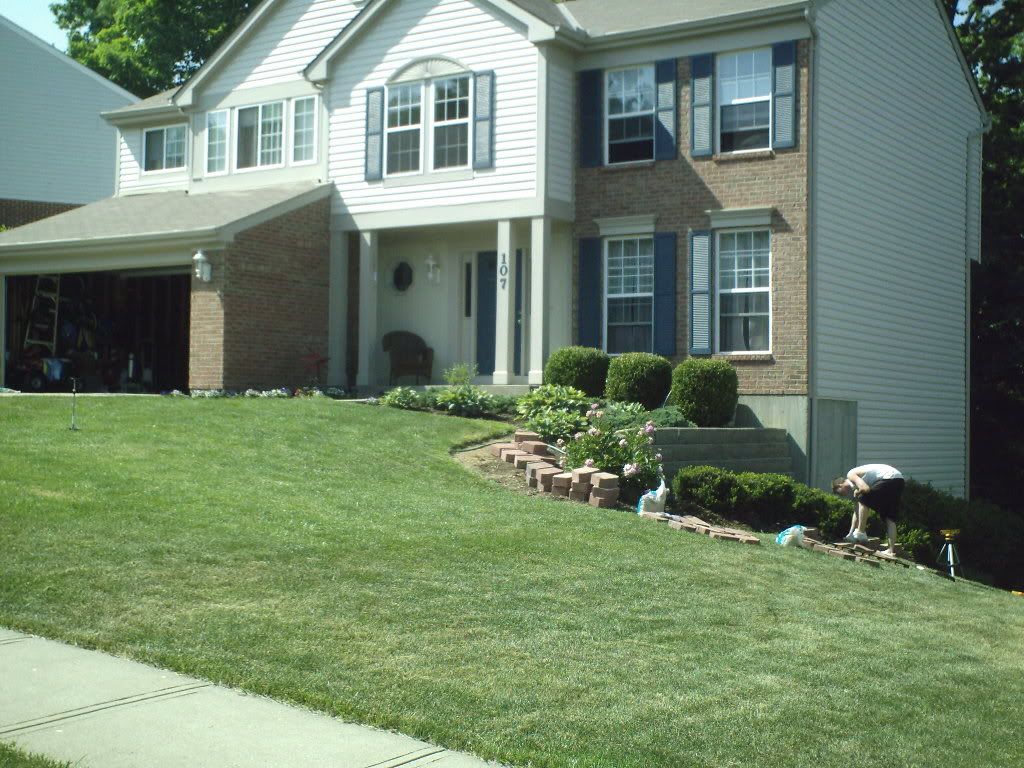 Pix 2
Pix 3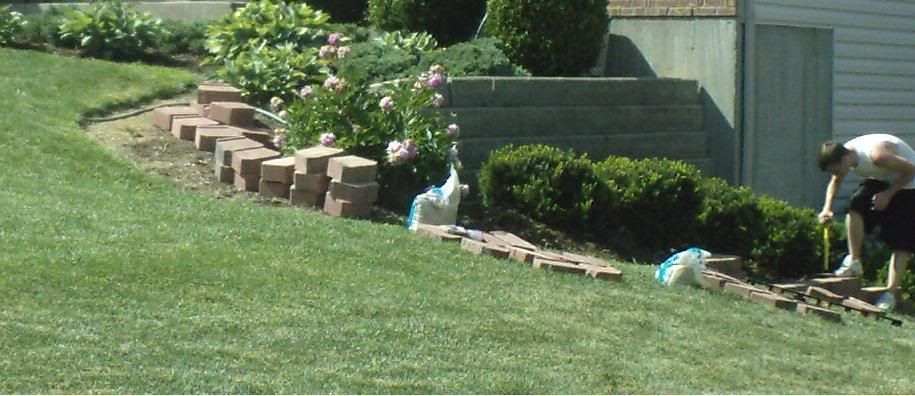 Pix 4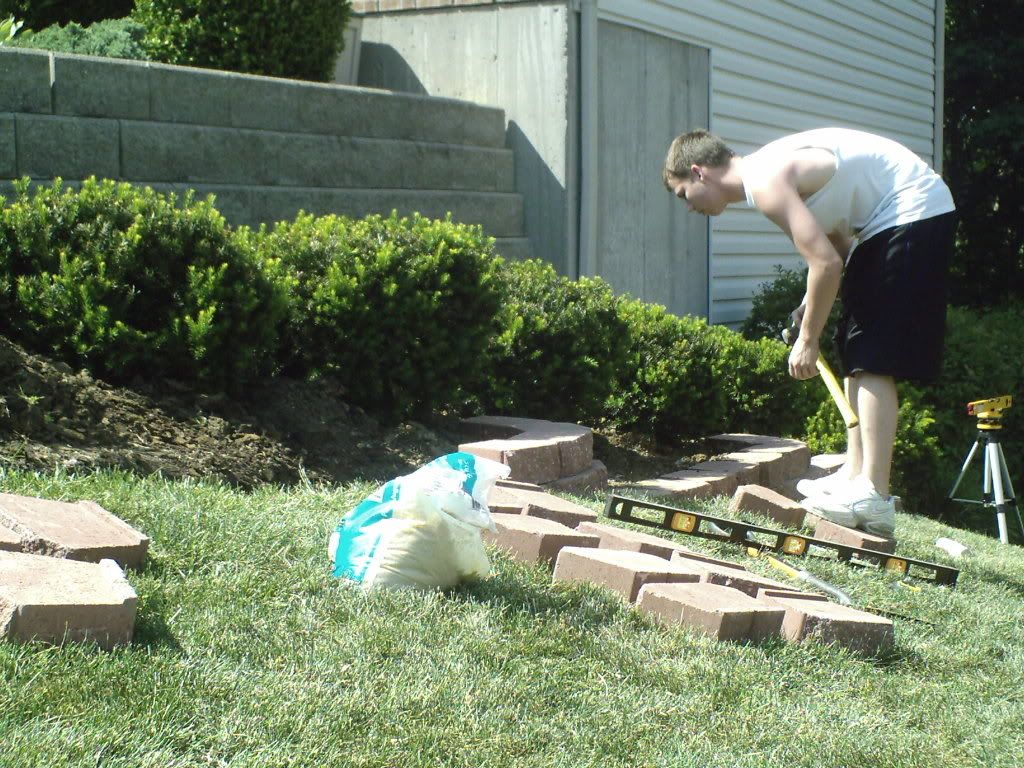 Pix 5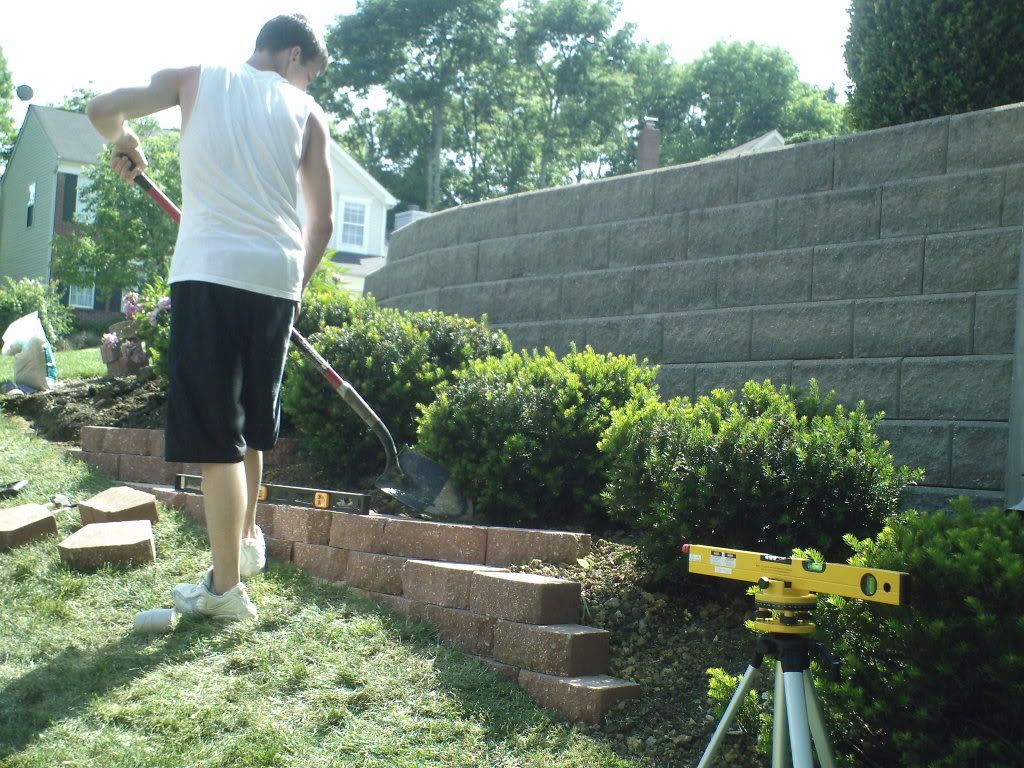 Pix 6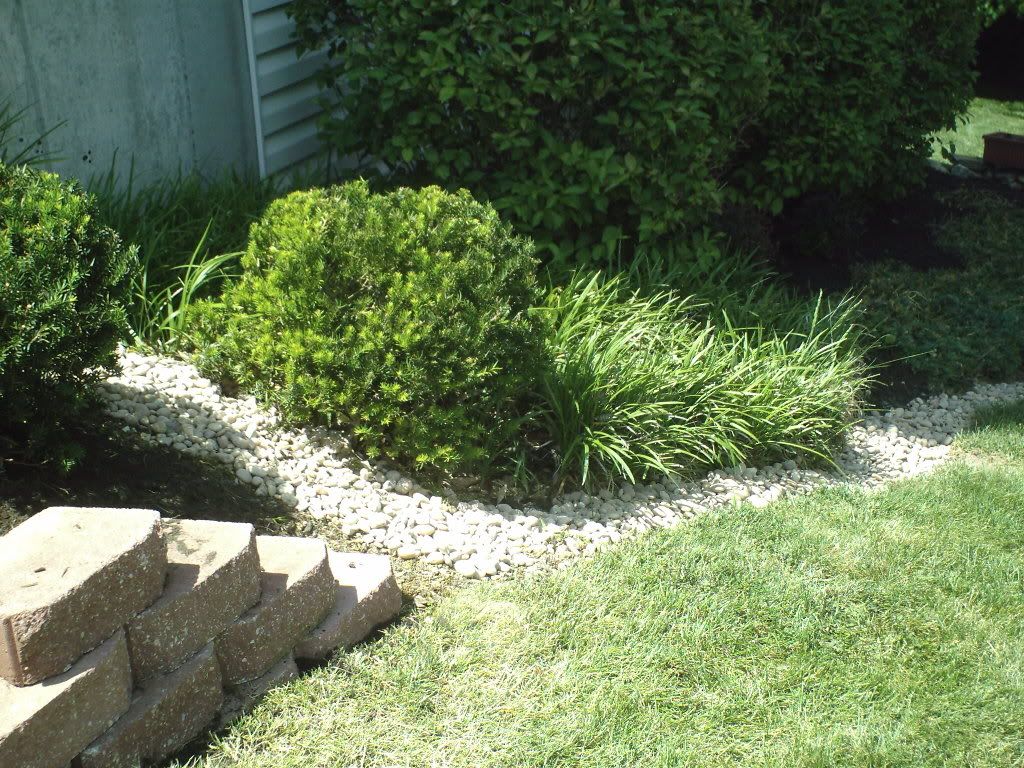 Pix 7
Pix 8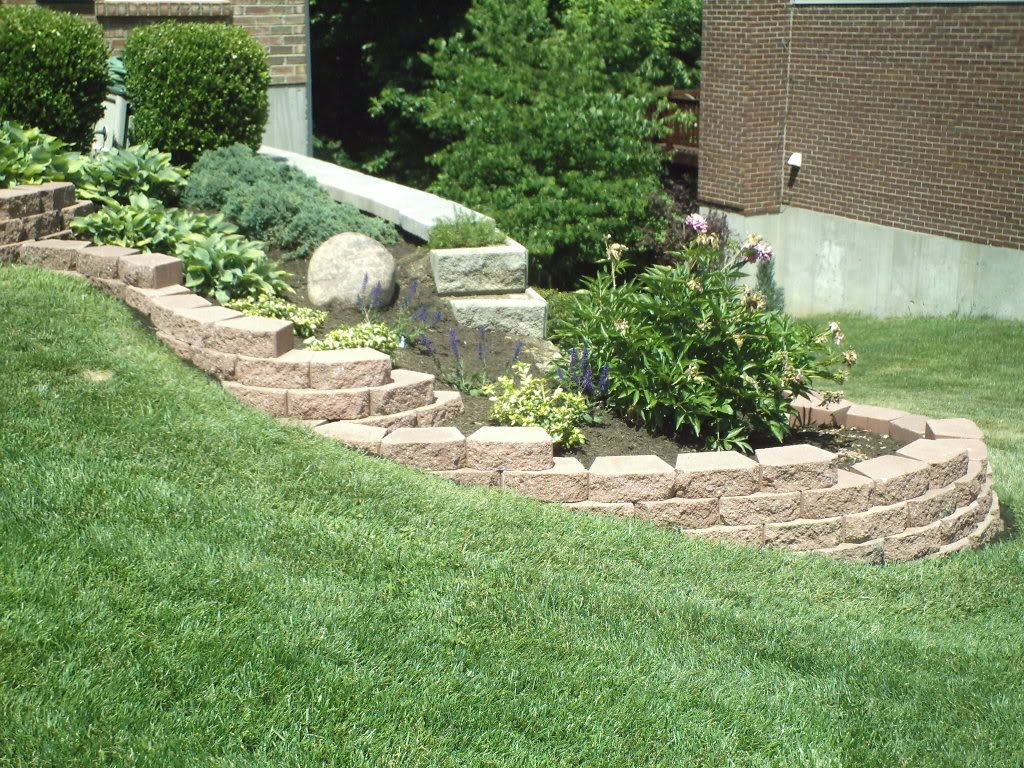 Pix 9
Pix 10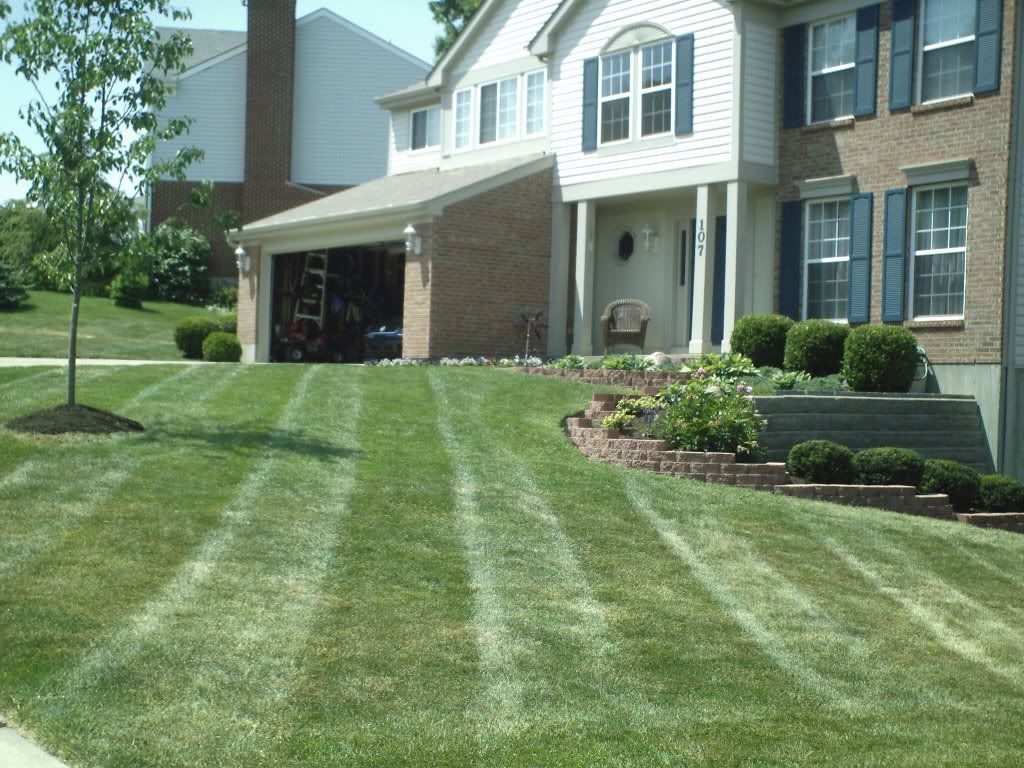 Project details
Installation of:
3 Moon Shadow (yellow center with green edge on leaf evergreen)
3 Sylvia (purple sage) perinials
2 boulders #4 size (approx 24" dia)
1 Advanced Pear Tree #2 B/B
1 Mulch Application all beds
70 linar ft Windsor Bed Edge Stone
Labor 2 men 16 hrs
Total $2,615.00
We completed this project with in labor hours bid. Profit margin was 73.4333%.
Good Luck adding a new Service to your business.
Thank Tim