I have a current customer who wants me to submit a bid for a hedge trimming job of a laurel bush.
The hedge is 37'Lx12'Wx12'H. But it needs to be 34'x6'x12'. It has over-grown half of the sidewalk (so 3-feet), and the other side is over-grown into the yard area (yet another 3-feet). One end of the hedge needs to come in 3-feet as well, but only on one side, as the other side was taken in by a neighbor.
The hedge is probably up to 12-feet high, but the customer said she doesn't mind it growing higher, just not wider, so I won't need to worry about shortening it.
I found a site while trying to find prices for hedging trimming, and their price would put it at $440. But on another forum site (I found it completely by accident, I swear!
) a member said this:
for small shrubs(under shoulder height)I charge $6-$8 a shrub. over that height i count them as double. for long rows I count every five feet as 1, again if over shoulder height count as two. I have found that this constantly gives me $60/hr on job.
p.s. In mulched areas i collect using drop cloths and non mulched areas I use mower to mulch up shrub clippings.
So based on that I came up with $256. $8 (price), x2 (high), x8 (length), x2 (the other side).
Does anyone have a formula for hedges? Or have an idea of how long they take? How long this might take? Once you see the pictures below you will see just how much will be taken off.
I realize that I basically asked this a while back for something similar, but I never got that job, so I was never able to find out how long it would have taken, or even what that person ended up paying to get it done.
The following picture shows the hedge from the neighbors side. You can see how far it has grown over the sidewalk, and where the neighbor has trimming it back on his side to where it should be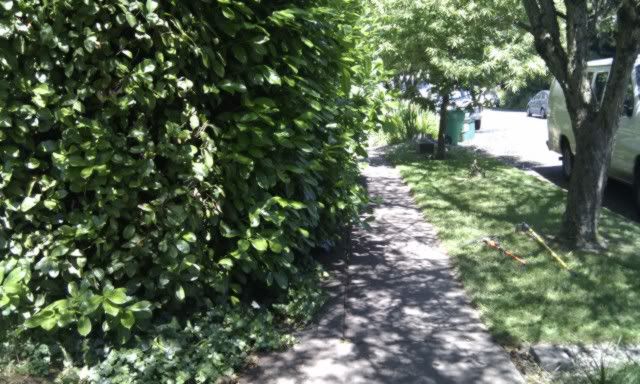 You can't really see from this picture just how much it has grown over the sidewalk, but half of the walk is blocked for nearly 40 feet.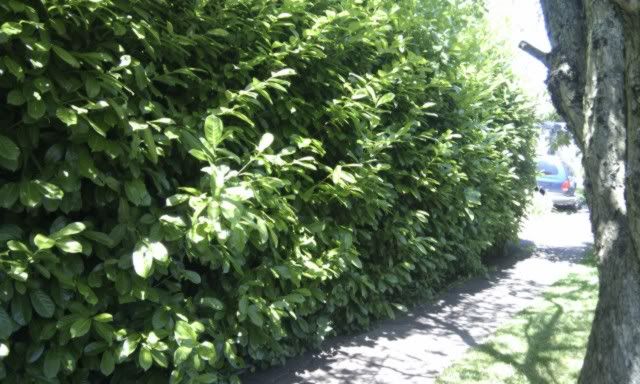 It is clear just how over-grown this hedge has gotten. From this shot you can see how much needs to be taken off. Once more, the front side overhangs the sidewalk by 3 feet. The side of the hedge facing the camera is also the side that needs to be cut back from the customers own walkway by 3 feet.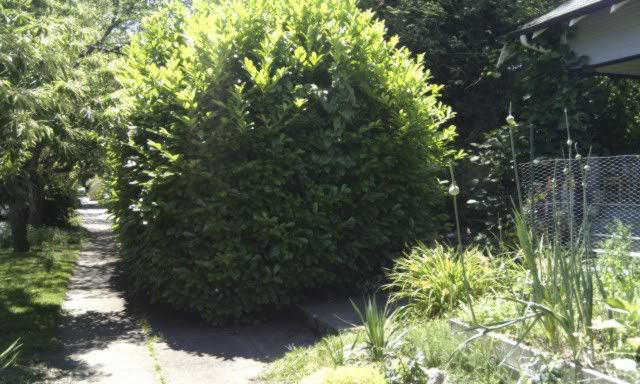 This is the backside. Not a great picture, but it does illustrate how much has grown into the property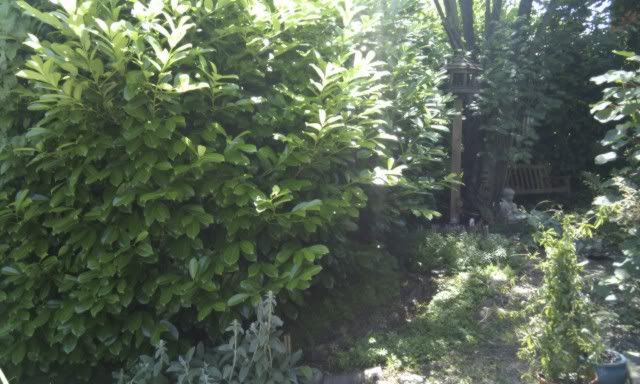 A distant shot to show its size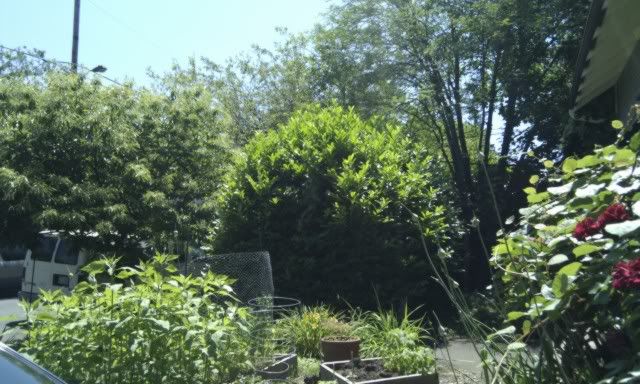 Another picture to illustrate how over-grown it has become.