Several weeks ago I went to give an estimate to mow a lawn. Long story short, the homeowner owns a local promotional company that does silk screen shirts and other such items, and when I mentioned that I was looking to have some shirts and signs made, he asked if I'd be interested in bartering - some cuts for some merchandise?
Hecks yeah!
I quoted him $40-$45 to cut his lawn and he offered me two (2), two-sided, 18x24, full color, coroplast lawn signs with upgraded heavy-duty stakes.
Here they are.
He suggested doing a vertical design, as it will stand out from the millions of "standard" 24"x18" horizontal signs that litter the landscape. This made sense to me and I used the same layout for both, but used different text for the "headers".
As a designer, I was torn between going with a stark, "generic" design using "text only" that could be easily viewed from a distance, or a more "colorful" design that has more visual appeal.
Since most of the places I'll be placing these are either at intersections (where cars stop for a moment - long enough to view the sign), or along sidewalks where there is pedestrian traffic, I went the more "colorful" route.
I designed them, emailed PDF files to him, and in a few days, he had them ready for me.
for these pics I threw them back by my flowerbed to show scale...
Viewed from the back...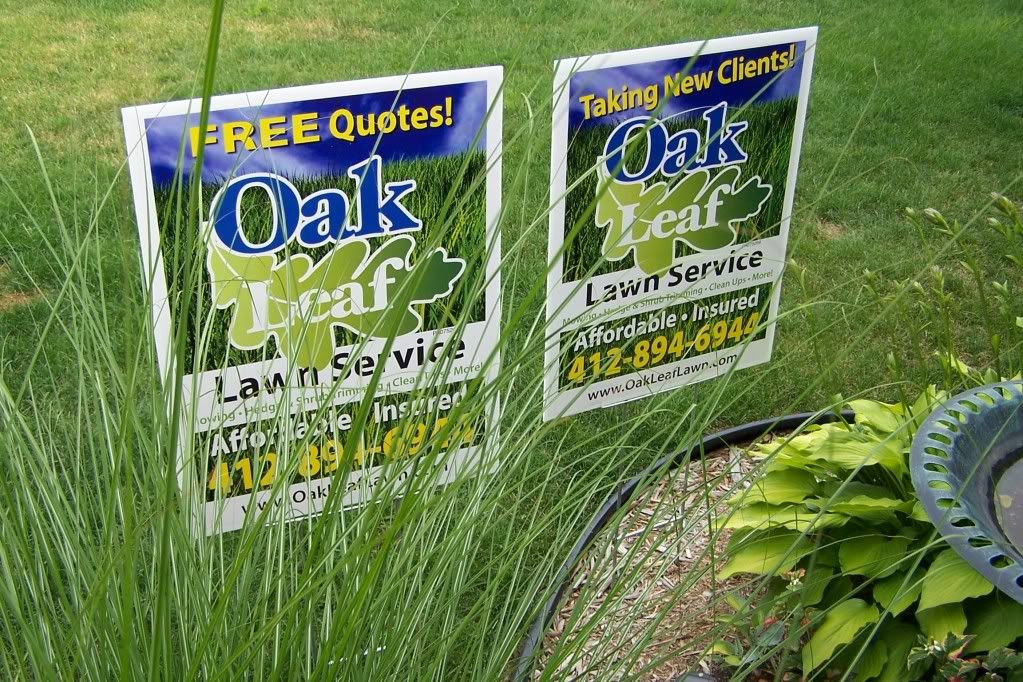 I cut his lawn again today. We spoke of having some t-shirts printed in trade.
It's a win/win for both of us.