As second place winner of the 2010 Gopher Forum Best Truck & Trailer contest, I received a vehicle business card holder, and some credit toward any additional purchase from our own Artie at
Marketingholders.com
.
I thought Artie may enjoy seeing this, so here are my items in use.
Outdoor
Business Card Holder
with Window Hook...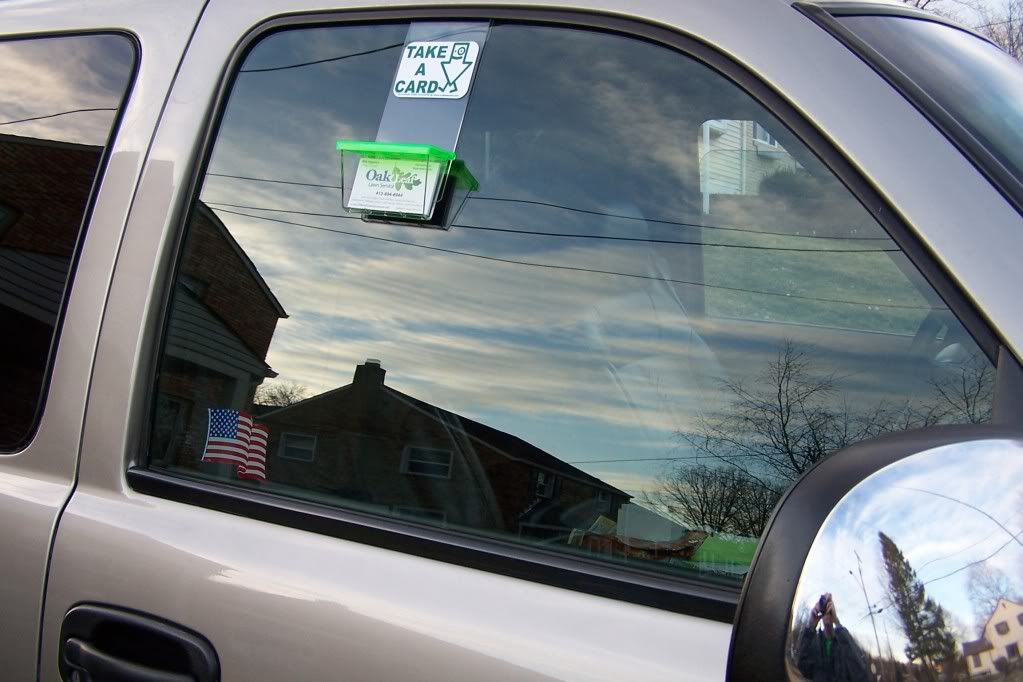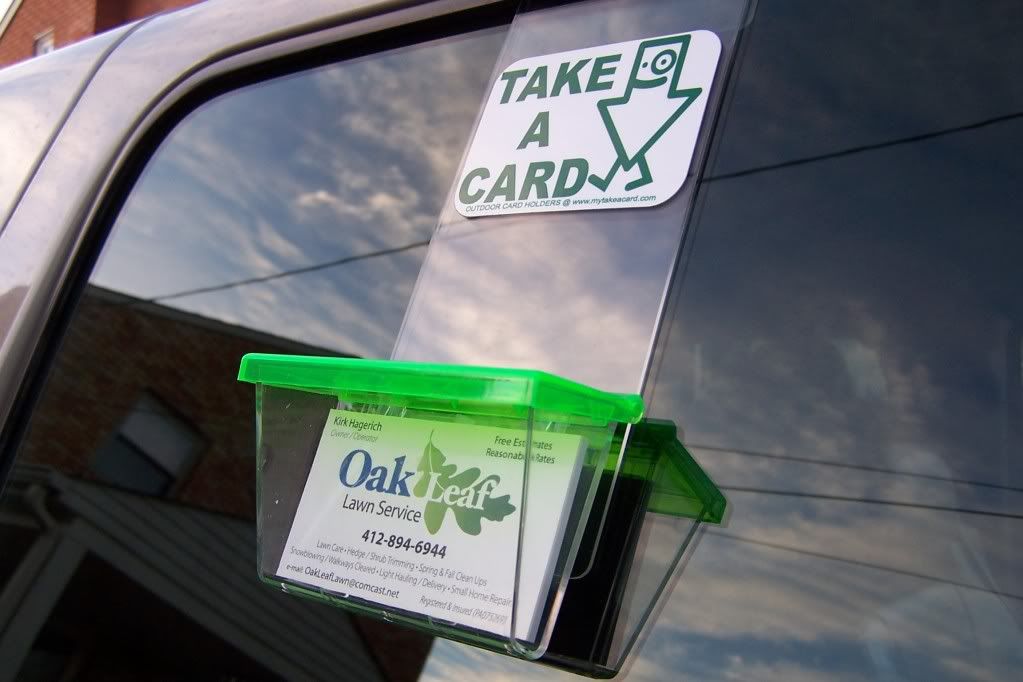 These holders are very nice. You can get them with or without the window hook, and can be had with several different colored lids. (the yellow REALLY "pops" - see below)
I was thinking of ways to draw more attention to them when parked, and I remembered that we have about a dozen of those "blinky lights" used for walking the dog in the evening, so I clipped one onto the window hook, and it works great for getting noticed! We did some shopping tonight, and you could see that light blinking all the way across the lot.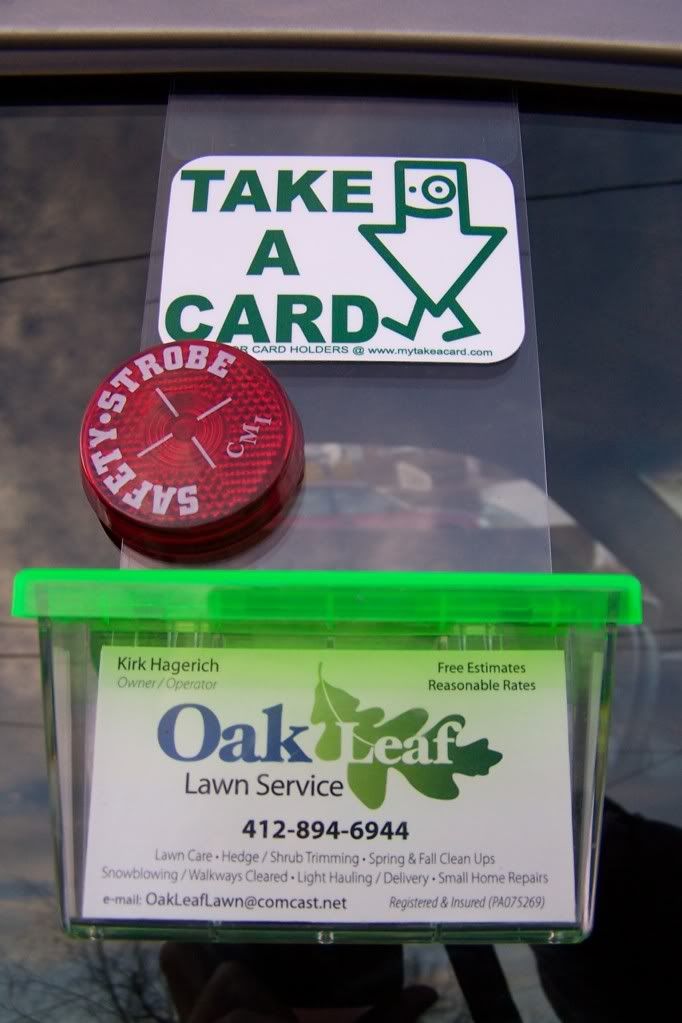 It took me about ten shots to get one when the light was
on
and it ended up being out of focus. Ugh!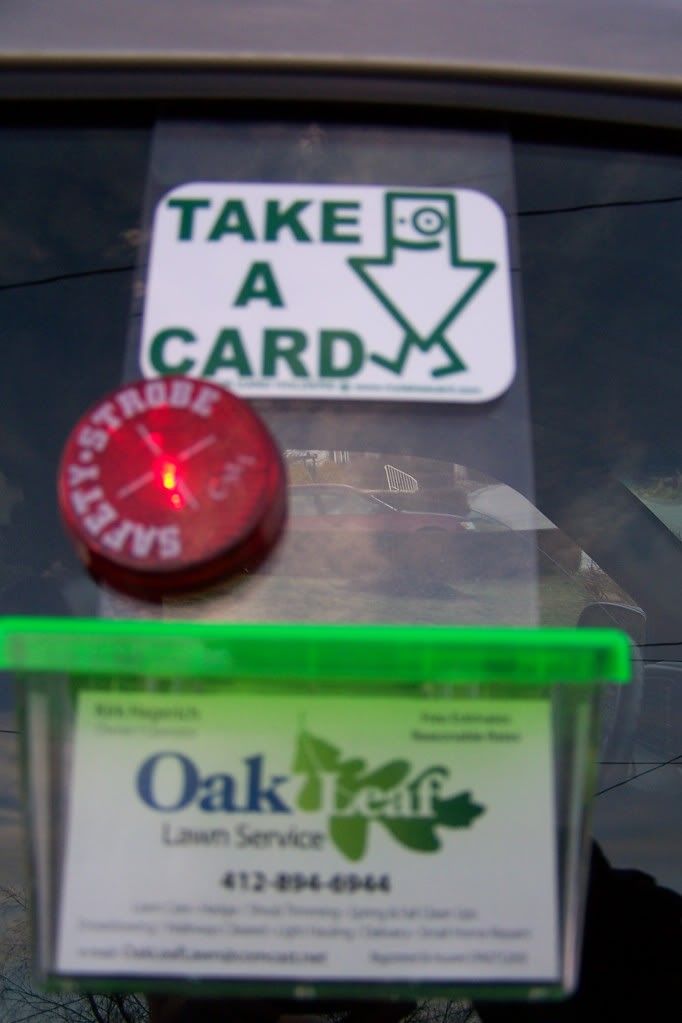 Below is the Vehicle Window
4X10 Brochure Holder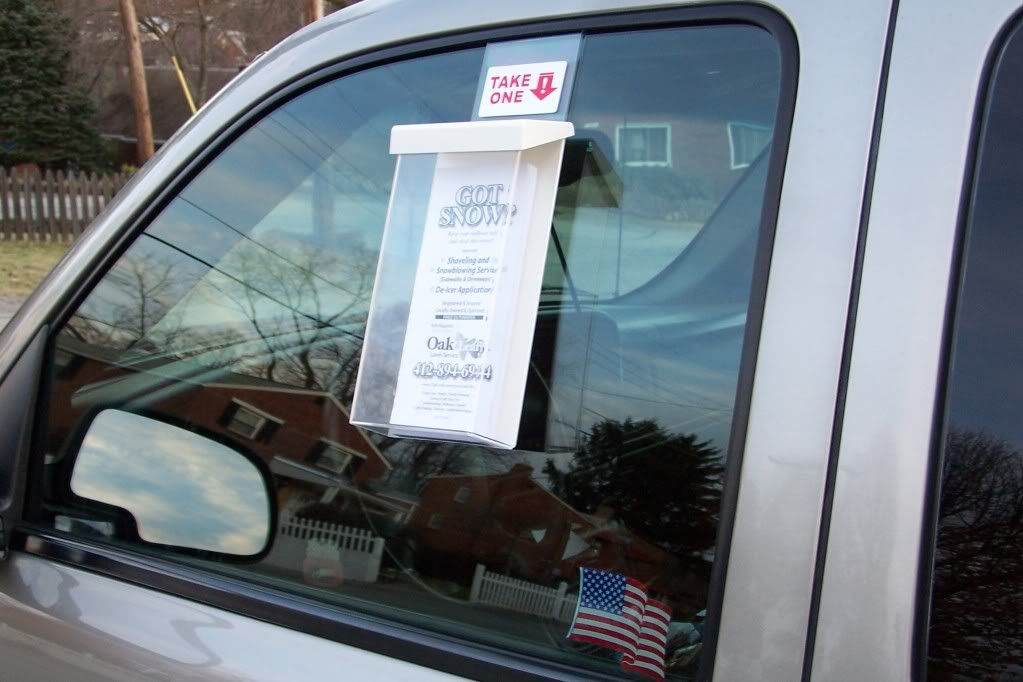 It is well made, and even though Artie has the dimensions clearly marked on his website, it is much "deeper" than I anticipated - you can fit a LOT of brochures in there. I don't have a brochure yet, but I designed the flyers shown as a "3-up" template on an 8.5x11 sheet so I could photocopy, then cut three from each sheet. They fit nicely in this display.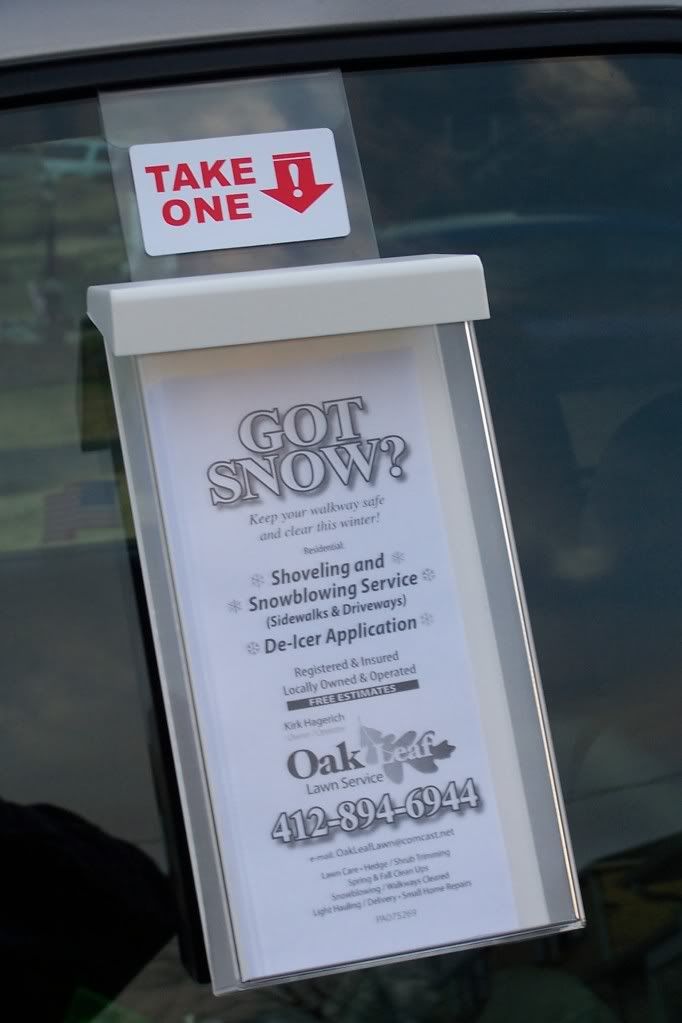 I also had an idea for a removable card holder that didn't need a window hook. I wanted a way to mount a card holder on the BACK of my truck so it could be seen by people walking by, but I didn't want it to be there all the time.
In place of the double sided tape, I used self adhesive Velcro hook and loop fastener. I placed the "grabby" part on the truck glass, just above the handle...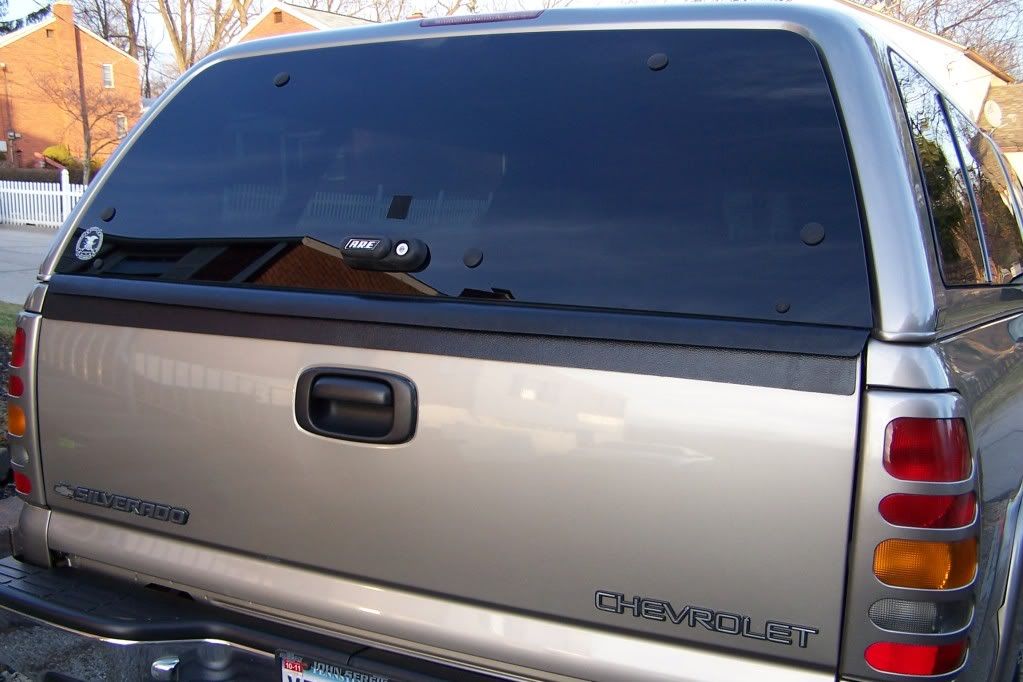 and the "fuzzy" part on the back of the card holder...
Ta-da!!!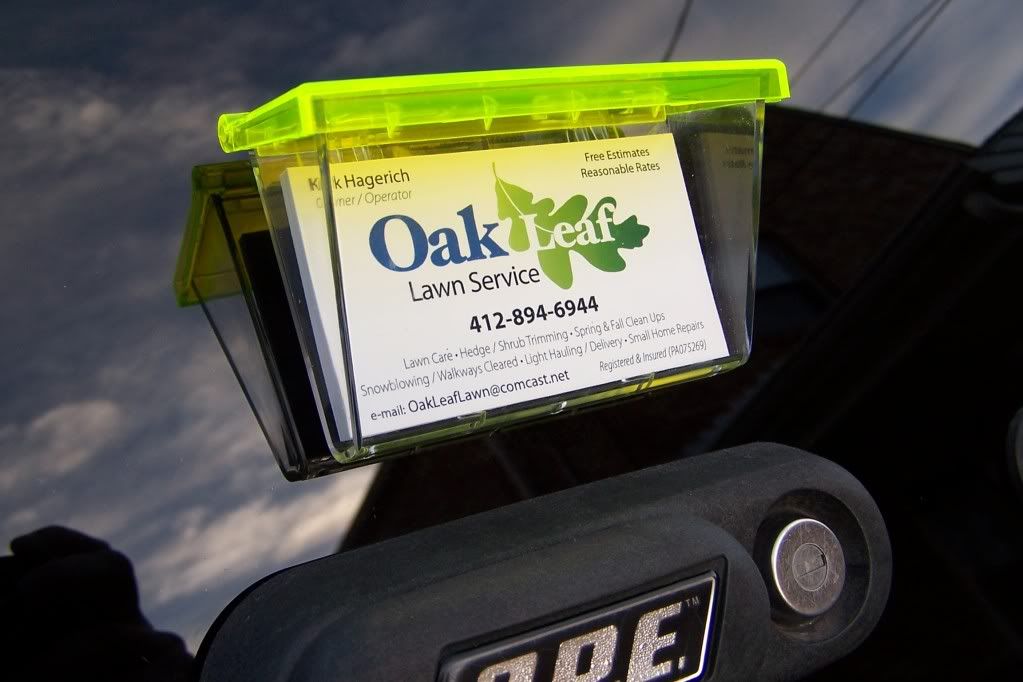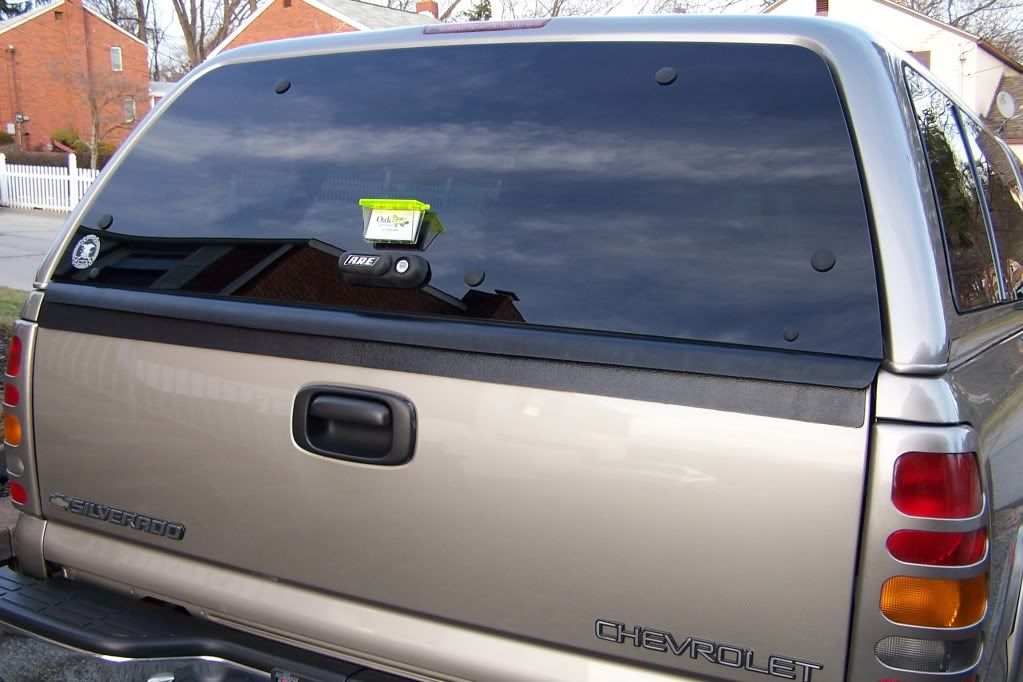 The only downside is that there is nothing there to say "Take a Card!", but I'm sure I can figure something out.
Finally, you may be able to use the window hooks to mount the card holders in other locations. I discovered that with care, I can slip them over the edge of my glass on my truck cap windows. I may cut a bit more off of the "hook" on one of them to allow it to slip on easier.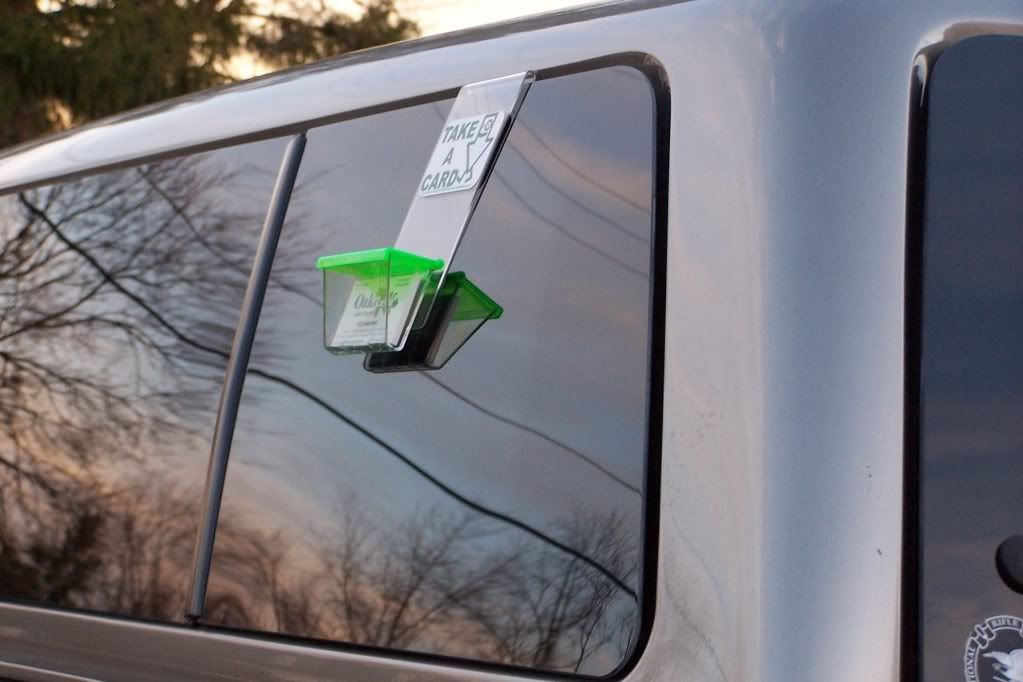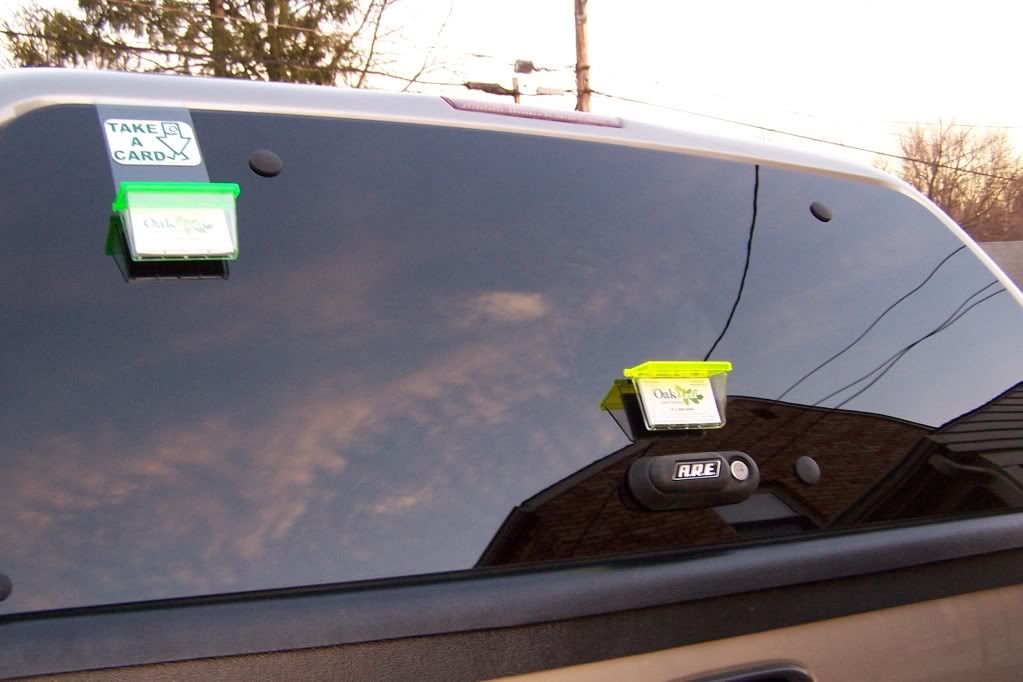 I have one of the
Magnetic Outdoor Vehicle Business Card Holders
, but forgot to slap it on while I was taking the photos.
It makes REALLY it easy and fast to place it where you want it for maximum effectiveness. If I'm parked near a "cart return" in a lot, I just slap that sucker onto the body panel closest to where the people returning carts will see it.
I'd like to see a slightly stronger magnet used for this product as it could lift a bit when opening the card holder, but it doesn't do so to the point where it just falls off.
Check out Artie's site for all sorts of interesting marketing holders. He's great to deal with and he ships orders wickedly fast!