Made a few posts and thought I should introduce myself. I've been in the nursery/landscape/lawncare business most of my adult life. Mostly on my own since 1990, it's been a long, hard road. If I had a great success story to share I'd probably be enjoying some exotic drink on an exotic island surrounded by equally exotic ladies...
As is I'm sitting at my computer not so much looking at starting from scratch but figuring out the best methods to re-sell myself and services I best provide. I'm no expert or guru but I do have some experience that might be worth sharing. Just the same, sometimes folks from a different line of work or little experience at anything at all have a tidbit of brilliance to share. I'm an old dog but not too old to learn a new trick. I've stepped in a big ol' pile o' poo or two along the way hoping perhaps that once in awhile I might steer a pup from stepping in too many.
This forum has more potential for a think tank than others I've seen from the posts I've read. My goofy avatar? Well, you should never have your discharge chute buried in someone's hostas. (the mower was new, first cut, freshly hosed off)
Right now I'm going into my first season ever without a truck and the mild winter has brought work early. So that's my biggest concern now. I have every tool I need (not every tool I want) so a few small upgrades here recently that I can pit against their still functional counterparts for a fair review.
Without starting a pic thread, here's what my driveway often looks like through the summer
(usually many, many more potted plants, divisions, seedlings etc.)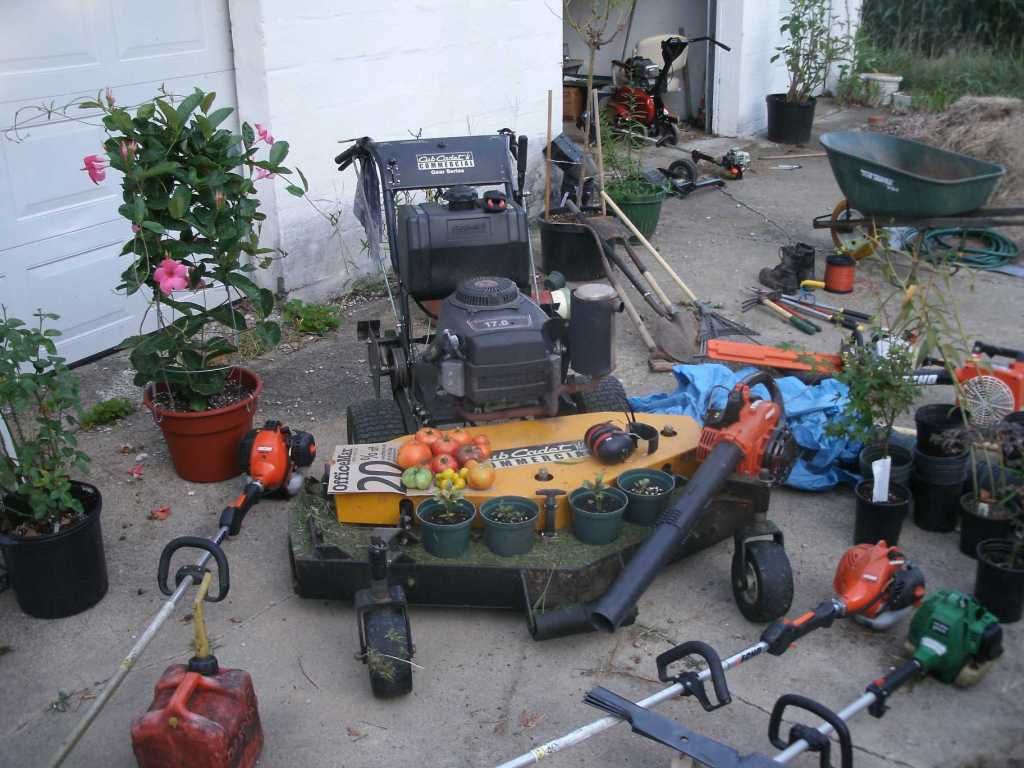 So cheers ladies and gents, here's to 2012