I think it's important to let your customers know that you appreciate their business. This is what I did...
I'm just starting out and I don't have that many customers to thank, so that kept my costs for doing so relatively low. (I sent out 25 cards) Also, to keep costs to a minimum, rather than buying "blank" thank you cards, I chose to make my own, using some nice, heavyweight ivory paper that I happened to have lying around. I set up a template so I could cut two cards from each sheet, and found matching "greeting card" envelopes at W-mart for about $4.00 for a box of 50.
I printed a big "Thank You!" on the outside, with appropriate text inside. I did a search for "thank you" letters for business and used one that was closest to my needs, re-wording it to my liking.
I already had the post cards printed in advance and designed them
(I designed my own logo, and promotional pieces)
to be somewhat "multi-purpose" in their usage, so I included one in each envelope along with a magnetic business card, and two regular cards, one having a handwritten "offer" on the reverse. I couldn't justify having such a small number of cards printed with an offer on the back, so while not looking the most "professional", it's what I decided to run with.
I numbered the offers to track their usage, and included an expiration date of two weeks before Memorial Day weekend so I wouldn't get hit with a bunch of calls at the last minute to do discounted work for people getting their yards ready for a party.
I also included a handwritten note in each that noted the work I had performed, or some other personal touch in case they didn't immediately make the connection as to "who" the card was from. (I had worked for most of these people before I had a business name)
and the text inside the card...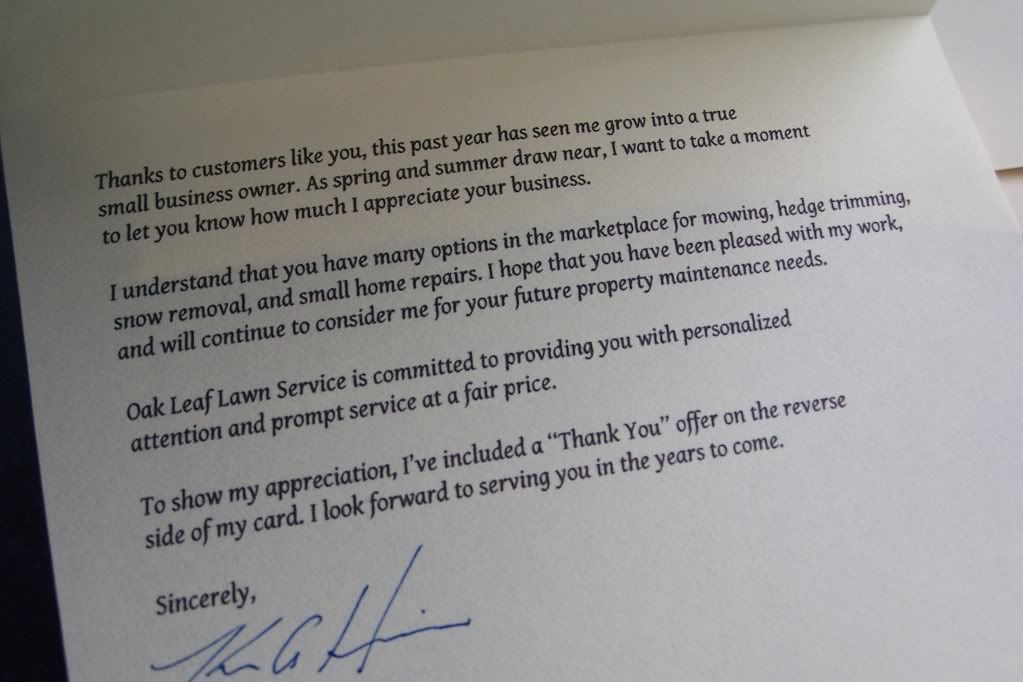 I used clear Avery address labels and printed them using the same font used in the card to give it a nice, uniform, and "formal" appearance. While I was at it, I printed a second sheet of labels to have handy should I decide to send anything else out at a later date. (I'm thinking website announcement/seasonal offer)
Note that before "packaging" these mailings, I took two envelopes with the enclosed items to the post office to have weighed to ensure that the envelope would not exceed the weight for standard postage. I was good to go.
In addition to those I did work for, I sent a few to people who had contacted me for estimates, but I did not do work for. (some jobs were beyond my scope at the time) They were all very pleasant people, and it never hurts to let folks know that you are still available.
I had my business cards, magnets, and post cards printed at
Overnightprints.com
. So far, I've been very pleased with the quality of the products. Although that photo doesn't show it well, the cards are nice and heavy, bright white (whiter than the Vistaprint sample card I have), and include a glossy finish at no charge if desired. They run really good specials on different products all the time and it's worth getting on their e-mail list for the discount codes.
Anyway, that's what I did. Feel free to comment or ask questions!