This story is amazing! I don't know maybe business owners that have been able to come up with a business idea, build it and franchise it all within a few years!
Amazing!
An entrepreneurial love story: Lisa and Jason Hake
-
Husband-and-wife team Jason and Lisa Hake said they knew that they would eventually leave the corporate world behind to start a business together, but that didn't make it any easier to take the leap of faith.

"We had to jump off a cliff and hope the parachute would open," Jason said of opening their own gourmet store, Sociale Make & Take Gourmet, in 2003. But, "this was always something that we wanted to do," he said.

Husband-and-wife team Jason and Lisa Hake founded Minneapolis-based Sociale Make & Take Gourmet in 2003.

The couple, who met in college and have been married for 11 years, had to tap into their personal savings, 401(k)s and home equity. And as they tried to get their business off the ground, Jason left his job as an equity analyst with Piper Jaffray while, for the first year and a half, Lisa continued to work as a marketing manager in 3M's dental division.

The Hakes, both 35, also had to support their young children, Cameron, 6; Claire, 3; and Chase, now 3 months.

"Our kids are excited about the success too," she adds, especially considering that she and her husband promised to take the family on a Walt Disney (Charts) cruise as soon as they open their 20th Sociale store, which should be by the end of this year.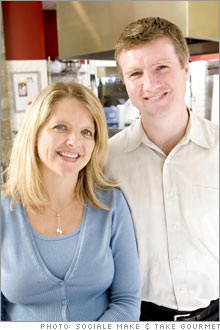 Check out their website here.
http://www.socialegourmet.com/